Summary
Simulation and Training Laboratory.
Client
Air Force Research Lab
Services
Understand stakeholder needs, create requirements, design, plan and manage.
Skills
Business Strategy
Software Management

Understanding how customers will use a product is essential to create requirements that will drive a successful design. There are a number of techniques that can be used to discover requirements, but any process is often a challenge when dealing with complex ideas or concepts that can be easily misunderstood. In this case, product prototyping and usage simulation provides a great mechanism to design and refine a concept. To this end, the TATOO Lab[1] was created for the simulation of Operationally Responsive Space (ORS) exercises to understand how tactical satellites can be best used by in-theater personnel.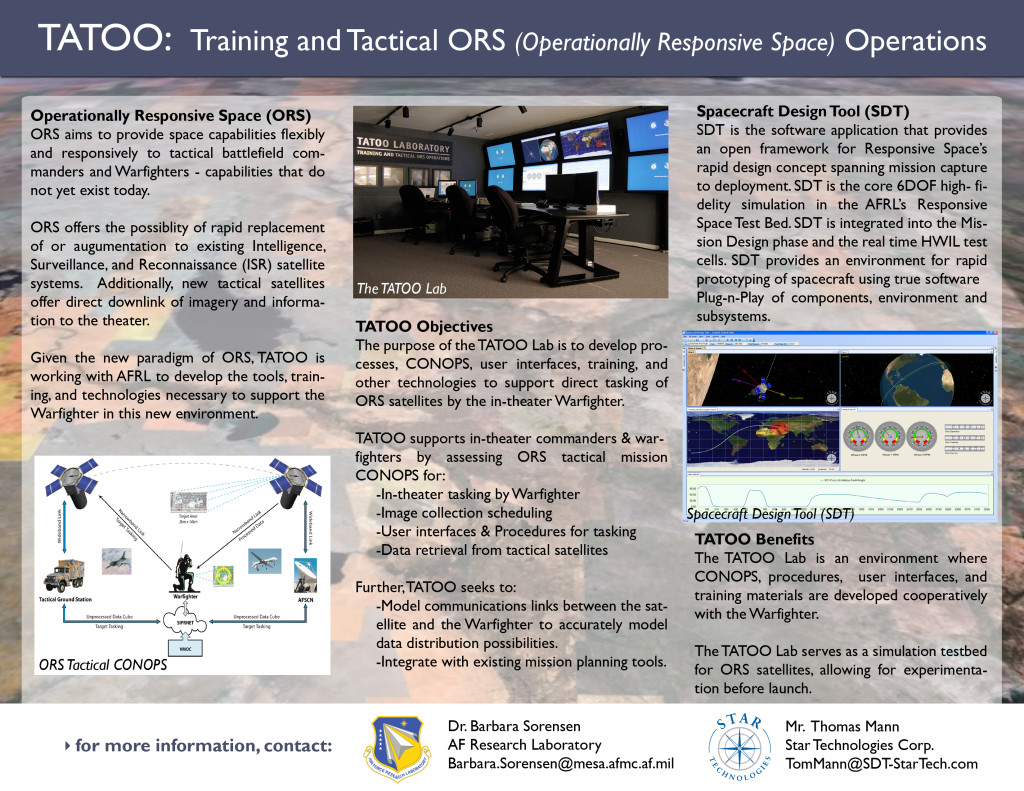 TATOO, an acronym for Training and Tactical ORS Operations, was a three year long project that I managed while employed at Star Technologies. Beginning just prior to the stand up of the ORS Office, TATOO was designed to understand commanders and Warfighter's requirements for timely support to determine how future satellite systems could be designed to best address them. TATOO was comprised of an environment containing simulated satellites, tasking and product viewing software, and loosely scripted scenarios. Deliverables of the TATOO effort included feasibility studies, prototype software, resource utilization processes, and training materials.
You can read more about the TATOO Lab in the following Aerospace and Defense Technology article.
[1] Sorenson, B., Strunce, R., & Mann, T. (2007, April). Training and Tactical ORS
Operations (TATOO). Paper presented at the 5th Responsive Space Conference, Los Angeles, CA, USA.